The skeleton is plain and out of proportion
....I'm gonna make him into a toddler
First I marked what areas are to be cut down, then sawed off an inch. from each section.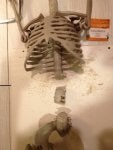 After cutting out the sections I have to reattach the shortened bones, I do this by melting the two cut sections together with a lighter and a little torch.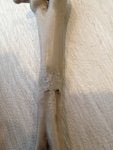 This is the little horse its gonna be riding.