Discussion Starter
·
#1
·
Mask Support Help Requested
So this is what my husband picked for this year, which is cool but needs a bit of help.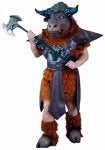 I can finagle most anything. Which is good because everything about this needs adjusting. The shoulder piece is HUGE and will need to be taken in. There is no fur around the chest so I have ordered some. It came in and doesn't match exactly so I will be using several bottles of colored hair spray to try to mottle the shoulder fur and the chest fur so they look enough alike.
But mostly what I am perplexed by is the mask. It is huge which is great. The eye holes are actually in the helmet. But the rest of the face just hangs there. I need to be able to stuff it so that it holds its shape, because it is just too big and heavy to stay upright.
Thoughts? Ideas?