Discussion Starter
·
#1
·
Worked like the devil this weekend (no pun intended) to finish my last 'big' prop for this year. Many thanks to Devils Chariot for the inspiriation and blessing to work from his original concept.
My creep stands about 32" tall and is an old Wisecrack Jack from Gemmy that a friend had given me. I was originally going to perch him on my entrance gate but this project screamed for someone just his size and with the articulated arms and legs.
The framework is aluminum barstock and I skinned the skeleton in masking tape for an aged look. I will be piping cooled fog into the cauldron as well.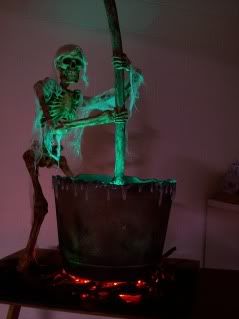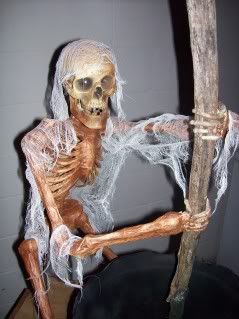 YouTube - CauldronCreeper
Incidentally, does anyone know how to hack one of these? I like the moving jaw and LED eyes, just no the corny one-liners He comes with. Anyone?
Thanks for taking a look!