Discussion Starter
·
#1
·
I checked out the 2012 Halloween with Matthew Mead book from my library and I want to use one of the templates from the book. Unfortunately, it directs you to a website which directs you to a website which isn't working. The first being
http://www.holidaywithmatthewmead.com/
, and the second being
http://www.matthewmeadstyle.com/
. I am trying to get to the palm reader template shown here:
I did find that this was originally taken from free clipart shown here: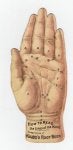 So I could theoretically remake it myself, but I'm not sure I have the software or skill to make it looks good. Does anyone have the template downloaded that they could share, or know where I can get it? It kind of angers me that they have these books out there that aren't even that old that direct you to websites that aren't maintained.