Discussion Starter
•
#1
•
Hello again all.
As a Christmas present to myself, I ordered a few masks and the first has arrived!
C.H.U.D Cannibalistic Humanoid Underground Dwellars. Those of you who have seen the film know what these creatures are.
Trick Or Treat studios has a mask called Sewer Dwellar and its an exact CHUD monster. Its simply stunning in person. I ordered it from amazon and it was well worth the money. The ONLY downside to it is that the back is cut way too high and it doesnt stay on well, but on a mannequin head with some paper inside it forms nicely.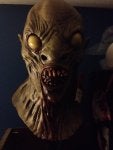 the back: