Discussion Starter
•
#1
•
So I originally posted under wanted, looking for mannequin legs and or arms. Free would have been ideal but I think I found a great solution. The best price I found for a set of mannequin legs on ebay was for $20 a pair, not bad. This is what I plan on making for my Halloween party this year.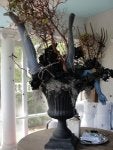 So instead of buying mannequin legs I found a cheap way to cast body parts
http://www.art-rageous.net/PackingTapeSculpture.html
Once I create the cast I'm going to fill it with foam, paper mache the outside, paint and add stockings. Unless anyone has a better or different approach? I assume I should put some planter foam on the inside of the pot, any ideas on how to attach the legs? Do you think they will stay in the pot with out having to glue them or secure them some how?