Discussion Starter
·
#1
·
It's August, which means I've got Halloween on the brain! Unfortunately not everyone else around me (including stores and friends) are quite ready to get into the whole swing of things as quickly (and as deeply) as I like to when it comes to prepping and decorating. To kill time and wait for the rest of the world to catch up, I make skulls!
Here is my latest batch...
Raw materials...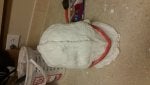 In the mold...
Some of them I fill completely and make solid (awesome doorstops) and others I like to do rotational casting by hand which results in hollow skulls (bowls, lanterns, votive holders, etc.)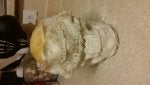 Peeling off the form...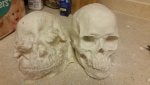 Tadaaaaa!
I like to trim off the lower jaw because, as you can see, for some reason it's a bit twisted to the side. Once it's all trimmed and cleaned off, I'm left with this gorgeous guy...
Here are a few of his friends... Most are made from plaster but there's also a 2 part foam guy on top...he was an experiment I'd like to try again now that I know what I'm doing a little better.
The best part of making these is that they're cheap, easy and fast (sort of like my high school boyfriend, but shhhh...I didn't really say that!).
So, what do I do with these fun 1:1 skulls?
I decorate with them. Turned one into a candy bowl. Use another for spare change in my laundry room. Have given some away...and my all time favorite thing to do with them is to augment my spooky fall bonfires and fireplace burns! Nothing sets the spooky scene quite like a crackling fire!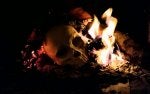 small disclaimer...although plaster will not burn, it does become very brittle in the fire and will crumble at the end (an equally awesome effect).
If you DO decide to put a plaster skull in a fire, be sure to let it THOROUGHLY DRY OUT first...and I mean BONE DRY (no pun intended!). I leave my skulls out for at least 2 weeks in the hot summer sun (if not longer) before I burn them. Any moisture left in the plaster will cause the skulls to explode in the fire. The best way to prep for Halloween is to start making these bad boys in August (now is great with the summer heat) and let them dry for a good 2 months before burning.