Discussion Starter
·
#1
·
Hi everyone! I've been quietly watching these forums for... oh gosh, maybe a year or year and a half. I pop in now and then and just get so darned inspired every time I come here. I decided to finally make an account and say hi.
I'm passionate about Halloween and all things spooky. My house is full of Halloween decor all year round, as well as bones and skulls (I collect and clean them myself). I'm an artist, and drawing werewolves and monsters makes me happy.
I really want to branch out and do more 3d work, and making Halloween props is the perfect chance to do it. My hubby and I hope to one day turn our house into a Haunt. We have a wooded lot, and a haunted trail would be so much fun to create.
I haven't done much sculpting beyond playing around. My hubby learned to make molds and cast them, so together we made these amusing light switch covers...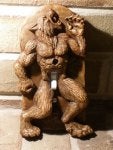 I also started sculpting this beer tap pull handle (we're home brewers) but lost steam on it: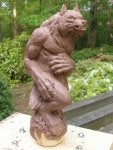 I'm currently waiting for some supplies to come in the mail before I can start my next project - a werewolf skin rug.
ANYWAYS... totally excited to be here. Looking forward to sharing ideas and otherwise babble about spooky things!