Discussion Starter
·
#1
·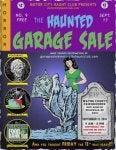 MCHC Haunted Garage Sale -- Vendors and visttors needed -- sell your props, horror collectibles, and hand made horror and halloween wares
Motor City Haunt Club is excited to announce our annual Haunted garage Sale. We are currently looking for vendors and guests to join in on the terrifyingly fun event. MCHC's Haunted Garage Sale is a place where vendors sell anything from gently used Halloween decorations, to self made props, to horror merchandise, handmade spooky wares, and anything horror or Halloween related.
If you are interested in becoming a vendor please simply email us for more details by emailing them at chulip30 AT gmail.com. A 6x6 table is only $25 for club members and $35 for non members. Vendors may reserve more than 1 table.
Whether you're a vendor or just a Halloween enthusiast looking to add to your collection, you won't want to miss this event!
Motor City Haunt Club Haunted Garage Sale
Saturday September 13, 2014 9am-2pm
Wayne County Fairgrounds (inside the main building)
10871 Quirk Rd, Belleville, MI 48111