Discussion Starter
•
#1
•
This year I got an idea while sitting in jury duty waiting forever. Take any mask and light it up can be used in windows full props or whatever you would like. Quick tutorial sorry for not going into detail didn't have much time to type it up.
Things you will need:
Bleach or Chlorine bottle
12" 1x2
1" Dry Wall Screws
LEDS
LED Holders
Battery Pack
Wire
Resistors
Switch or Push Button.
Hot Glue Gun
Ping Pong Balls
Drill Bits
Cut a Slot in the bottom of the bottle and shove the 12" 1x2 and adjust to your neck liking. Screw in using 2 dry wall screws.
Put your mask on it so you can see where your eyes line up and mark where your eyes are going to go.
Drill out your eyes for your LEDS and Switch/Push button.
Put in your switch and led holders.
Wire your positive lead from your battery pack to your switch.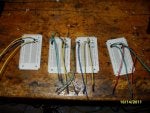 I used a bread bored and wire that was already pre striped saves time. To connect my resistors to each positive lead on LEDS
Insert you board and connecting your positive lead from the board to your switch.
Drill your ping pong balls to fit over LED holders.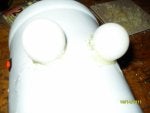 Glue the ping bong balls to the bottle.
Gently slide your mask over and adjust and dont forget batteries.