Discussion Starter
·
#1
·
Please can someone help advise on fixing my life size Freddy Kruger? This is the version I have -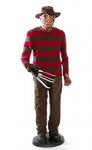 This FK is also signed by Robert Englund at the base so am very keen to get it working again!!
Faults -
The neck does not move
Freddy Krueger only says 1 sound clip "Im gonna split you in two!" and fails to say the other stored sound clips.
The neck and all sound clips used to work but only temporarily sometimes you had to guide the neck movement in the other direction for it to play the other sound clips and then it would move left to right & play all clips on its own (now and again). By trying to get the other sound clips to play I have accidentally broke the tip of the cog (see picture below) that connects the base of the neck into the neck socket where the motor and other cog components are.
Snapped cog -
I tried super gluing the tip back onto the cog but the glue isn't holding. What glue would you recommend? Can a replacement be bought anywhere?
After searching this forum this motor '3VDC Powerful Motor' was recommended as being the most common motor used in these gemmy animatronic products. Do you think if I replace the motor with a new one it will turn in both directions and play all sound clips again?
I took some pictures of the motor inside the neck -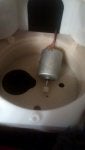 Picture of the recommended motor '3VDC Powerful Motor' (I am unable to link to the product as this is my first forum post) -
Can someone confirm this is the right replacement motor please?
Why would the motor not spin in the other direction? Why does it stop at the first sound clip? I think the 2 issues are related. I am hoping if the motor is fixed all sounds will play again.
I am in Redhill Surrey UK so if anyone is near and can help on site that would be perfect!