Discussion Starter
·
#1
·
A request was posted for a tutorial for the Harry Potter mandrake plant the other day, and I always wanted to make one. So I got in the mood to try my hand at one. Then I floated this idea to a few other members, and the member who asked for the tutorial, and we thought it would be fun to kind of 'get together' and all make our own version of the Mandrake simultaneously.
This is not a organized tutorial by any means. I thought we could share ideas and then could create our own mandrakes and come back and share progress and our finished plant. I have seen many different ways people have made very cool mandrakes. So if you are interested, pick the medium that you feel most comfortable with. No hard and fast rules here. Hopefully we have some laughs and wind up with a cool craft item at the end.
Alright, so I guess we can repeat some of the initial ideas started in the tutorial request.
http://www.halloweenforum.com/reque...ere/146336-mandrake-tutorial.html#post1829073
Pumpkinpie stepped up first and was kind enough to share her uber cool baby doll and hot glue version! I love that one!! Have had it pinned for a long time. I'll get her to come back and repost her how to.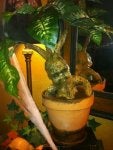 For the first taste of inspiration, here's the clip from the movie!
To review, this is a very loose activity. Just jump in and show us your mandrake if you have made one previously. We would love any and all inspiration! Or join in and make one and share your progress. There is no deadline. Just have some fun!
Ready. Set. Go!!!!!