Discussion Starter
·
#1
·
I just wanted to let you guys know about a situation that I came across while building a Hot Coals prop with LED string lights. As most of you probably have seen on here, you can create some awesome glowing hot coals with LEDs and Great Stuff insulation foam. However, as I was finishing up my project, I ran into a potential disaster.
I was in my garage with the lights off and was playing with the settings on the LED string. I had used several strands that I got off of E-bay for about $6 or $7 a strand. Well, everything looked great, in fact is was so realistic I could swear I even could smell it... and then I actually saw a tiny trail of smoke drifting up. After much inspection and debating about it, I tore my prop apart. I tried best I could to remove the strands from the great stuff without damaging them so hopefully I could reuse them (yeah right, it wasn't happening). Anyway, as you can see from the picture below, I'm glad I did it. I could have been setting myself up for much more than I bargained for...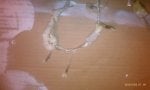 Seems these strands, made in China (of course!) are really cheap, literally and figuratively. Here you can see the black scorch marks from a faulty LED strand. This is definitely a product flaw, yet I'm not positive that it couldn't have been exacerbated by the Great Stuff. I had a can of the foam that didn't come out all fluffy as usual. Instead, this can came out thicker and didn't expand the same, and after drying it was much denser than normal. It sure seemed like many of the scorched LEDs were in those areas, but I can't say for sure. Regardless, proper LEDs shouldn't be generating that type of heat in the first place.
So there it is. Consider yourself warned! I'd hate to have some of you out there get "hot coals" far, far more realistic than intended. A fire trap isn't a good thing especially if it ends up harming kids along with destroying your props.
Here's a picture of the box that the strands came in, but I think pretty much all of these super cheap LED strands are the same thing. Two out four of my strands had scorch marks, so a 50% failure rate is WAY TOO HIGH in my book.