First off, thank you to Old Man Bakke for the idea and the step by step tutorial here
http://www.halloweenforum.com/tutor...w-make-large-cauldron.html?highlight=cauldron
This is another first for me, I had never used paper mâché.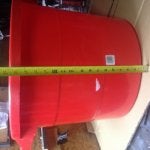 Started with a large round tub that I found at a local hardware store.
Then I start cutting "ribs", these make the tub look like a cauldron
Taking form
Wrap it up with a toll of duct tape
My first layer of paper mâché, so far so good I think. See how it looks/feels today when it's all dry
Time for a coat of paint. I used Flat black Plastidip, thought it would seal it up nice and strengthen it a bit.
Testing out the fog machine and a green floodlight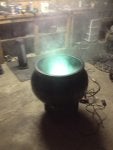 well that's it so far, but i'm headed back out to the garage right now.