Discussion Starter
·
#1
·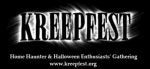 ​
Kreepfest - August 7-9, 2015
Welcome to the Midwest haunter's UN-Convention! Kreepfest is free, fun, and open to everyone. A gathering more akin to a family reunion than a trade show, Kreepfest is open to haunters from seasoned pros to the newbie who has just gotten the first symptoms of haunt addiction. Prop-making demos, games, prizes, haunt round-tables, cool vendors and lots of surprises await you this August.

Friday night brings a movie so monstrously bad, so terribly z-grade that to speak its name is to court madness! You'll have to see it to believe it! The snacks are on us as you settle down to view The Ama ... no, I just can't say it! You'll have to bear witness to the insanity it unleashes yourself!

Supposing you survive movie night, Saturday morning brings a plethora of pleasures. The Macabre Motors Show, where you can turn your mundane method of transport into an outward expression of your love of Halloween, get dizzy as you answer the eternal question, 'He left, right?' so you can be rewarded. Hang with haunt-a-holics and soak up cool demos and guest speakers. Shop our new Vendor Strip where you can pick up those last-minute haunt bargains before settling in for a delicious potluck lunch (meats provided by The Middle of Nowhere). Tummies full, be sure you take the time to vote for the centerpiece contest before the demos begin anew. Think it's over, ooohhhh no! There's time for heaps of awesome prizes before you head back to get ready for Zombie Prom!

At 8pm, the doors re-open to Isla de Calavera, the mystical lost island of zombies, cannibals, monsters and pirates. Dance the night away with the other lost souls who drift through the doors. Are you brave enough to seek the treasure of the Silver Skull? Sure you arrrrr!

Sunday, a warm, delicious brunch awaits you, courtesy of Michael Dill & Kansas City Home Haunters Club. Once fast is broken and bracing coffee is downed, it's time to settle in for Make-and-Take-A-Palooza! Six stations of neat things you can make and take home with you. Choose one or choose them all, it's up to you! When you've worn yourself out and have all your goodies in hand, we'll bid you adieu until next year.

Sound good? Well then check out the website which is always being updated with fresh information. Like us on Facebook and keep abreast with your fellow Kreepfesters. Lastly, but most importantly, GET YOUR BEHIND TO KREEPFEST!!!
kreepfest.org
Kreepfest on Facebook