Discussion Starter
·
#1
·
Went in a couple days ago to buy some fabric. Their main display shelves are filled with normal Autumn themed items. I was about to leave when I saw some salt and pepper shakers on an end-cap then discovered that a majority of their Halloween items were out on the aisles behind the Autumn displays
I took as many pictures as I could, they have SO much this year. now all of it was set up, yet. Also accidentally took a photo of a woman shopping...
She probably thought I was nuts...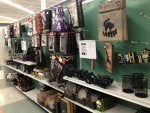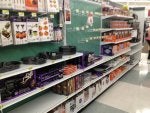 Martha Stewart section had yet to be stocked. Lots of dish towels and kitchen items. All of their Halloween fabric has been out for a couple months now. Can't wait to go back! They always have great coupons on their app.