Jimmy's 2017 build..... (Now with working pictures)
Hi guys,
Please be gentle with me it's my first build thread and TBH my first full year of building stuff instead of buying. It's been a nice learning curve and hopefully I'll get better as years go on.
many of the materials I've never worked with before so it's been trial and error and lots of YouTube and research.
So far this year I've made:
A fog chiller froma cool box.
Witches bubbling cauldron with lit fire beneath it (thanks to Oak Lane Cemetery for the inspirations for the fire),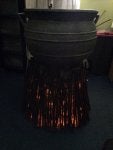 A few new Tombstones,
(First time ever working with polystyrene)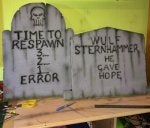 A sarcophagus tomb (small as I don't have a massive garden)
A victims cage lit from the inside
Jazzed up two bought Ghost Witches
Two graveyard gate columns
and some whimsical Skeletal fairies.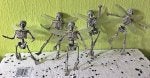 The fence is metal and bought in sections which actually worked out cheaper than making one here in the UK , plus it can stay out all year and is move-able.
Sorry if the pics are too big, I've resized them smaller than the originals, hopefully they're ok and the builds themselves are ok too.
Thanks
Jimmy