Discussion Starter
•
#1
•
Hi all!
Word on the street is it's October.
Pics of
JD's Halloween 2013.
In 2014, we had an abbreviated display, but were back at it last year. To mix it up a bit, I took pics on Halloween night iself:
JD's Halloween 2015.
The adds last year were basically twofold:
* We scrimmed the living room window and added a projector, which I acquired off Craigslist by bartering other electronics I no longer use. My son edited a bunch of the Atmosfear FX clips into one extended video that incorporated our favourite segments, extending some to go on much longer than they do on the DVDs.
* On Halloween night, we had two freakish clowns - two of my brothers in amazing getups, which you can see in the 2015 pics - mingling in the crowd. The impact was amazing and we'll be doing it again, this year. Clowns are messed up. Just look at the news cycle.
Other than that, it was a bunch of little tweaks, like introducing natural logic into the placement of the oversized spiders.
This year, we're adding a couple of subtle upgrades to the cemetery, most notably by repurposing one of the motion-detector skellies, and adding two new ones. This way, there will be four restless undead / gravegrabbers triggered in the cemetery when someone walks or drives by the haunt.
The new guys are simple low-RPM, high-torque gear motor constructs. I picked these up for $3 at surplus and just added the metal bracket, screwed in at two points of contact. Shades of neurosurgery.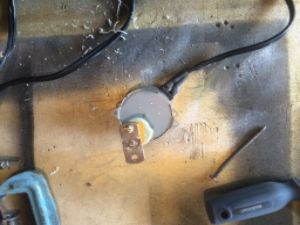 The new guys, who are buried in earth:
They go along with these two gentlemen, the first of which is situated inside a gravestone that conceals and protects the mechanism:
If anyone's interested,
all
my creature hands are made with my go-to hand technique. It is easy, cheap, and HyperFast™ (fast, but in a hyper way). I'm sure, given the creativity of people around here, that others have independently figured this one out.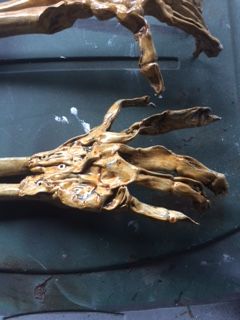 I take one of these cheap dollar store hands...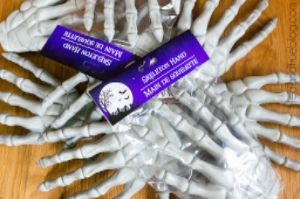 ...clip to the size I want - there's an extra finger joint - apply a heat gun and pliers, spray paint flat black, dry brush with white or coloured latex paint, and finish with an exterior stain.
Looking forward to the next few weeks. Hope things go well for all as you prepare and set-up, and wishing our friends currently in the path of the storm safe harbour.
Cheers,
JD