Discussion Starter
·
#1
·
This is a combination of two separate yards - my niece lives in the next town over and they did ToTing Thurs night so as not to conflict with High School football on Friday. Bizarre, but what the heck, we got to do two nights instead of one. Anyway, here's my maiden voyage into the world of Yard Haunting.....
A wide view of the yard:
Cemetery shots:
The Green-Eyed Monster:
The Possessed Pumpkins: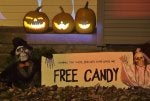 The Witch's Shack:
Zombie Containment Garage:
Flying Crank Ghost (crypt and garage):
Ghosts in my house:
Yours Truly:
Forgive that my scythe has no blade. It was made of styrofoam and broke off when I walked into a tree.