Discussion Starter
•
#1
•
I'm starting a Life size Jack Skellington project.
I broke my right thumb (open fracture
), so it's going to be slow progress but...
Here's my progress so far on his head.
I had created 2 pepakura bucks before I broke my thumb. That took some days.
Day One
1. Pepakura Buck
2. Slush cast with Resin
3. Filled in cavity with foam.
4. mounted on pcv stand. Threaded piece on the bottom to make life easier later.
Day Two
1. Apoxie Clay 1st coating.
Day Three
1. More Clay
2. Roughed in teeth.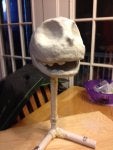 Day 4
1. Filled in major missing areas
2. Finished rough teeth.
That's where I'm currently at: Next I'll change over to sanding and smoothing for several ?days?
Will post progress as I make any.
Thanks for looking!