Discussion Starter
·
#1
·
I thought I'd share my invites from last year and this year. Feel free to "borrow" any ideas you like.
2007;
I work as a pharmacy technician, so for my first party I HAD to do a prescription. I work at Walgreen's, so I fashioned the label off of Walgreen's style. I simply printed them off my computer and folded them in half, stapled to a goodie bag with a vial inside. For the vials, I printed labels also from my own computer, and I got the vials from work. Most pharmacies are glad to give you a few if you ask (just don't ask for more than a handful, or we will think you're pushing it - but you can go to multiple pharmacies if need be, or order some online for a larger gathering). Inside the vials I put Halloween M&M's.
The labels included a section for Side-effects, which included hangovers and alcohol poisoning, directions for use, which said to take one candy as needed to remember the party, and how to use the medication, including the requirement of a costume.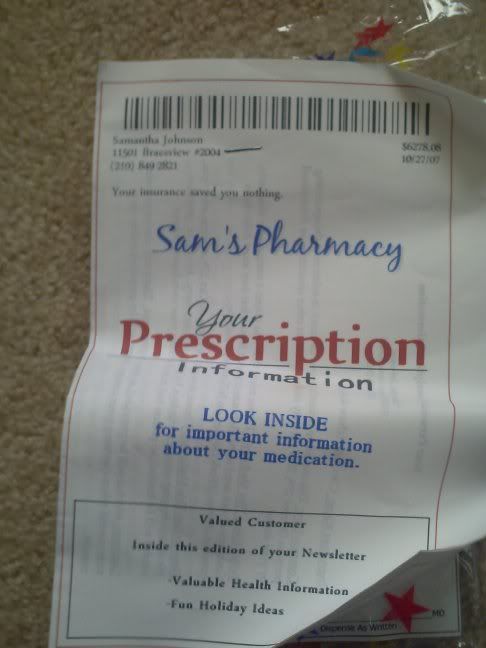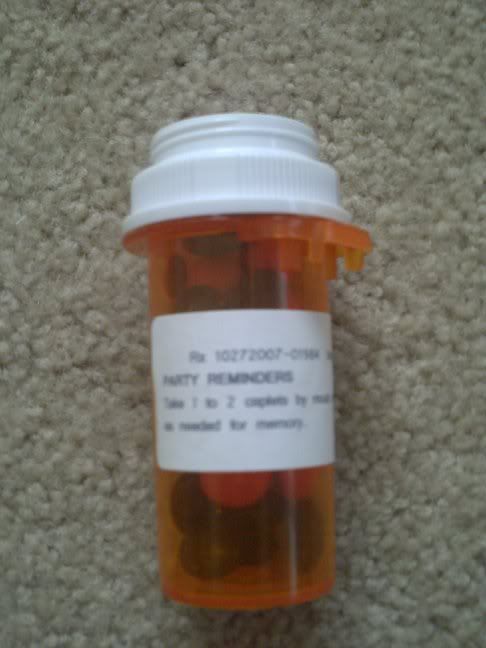 2009;
This year I've just done a fancy little card. I didn't have a theme to it, unless you count fancy as a theme. I wanted something sleek and sophisticated. I took black cardstock and metallic colored cardstock for the insides, got some metallic colored paint pens for the front, and printed out the invites for the insides. I then just glued the pieces together and voila! And I added some gold and silver ribbons to the edges for flair.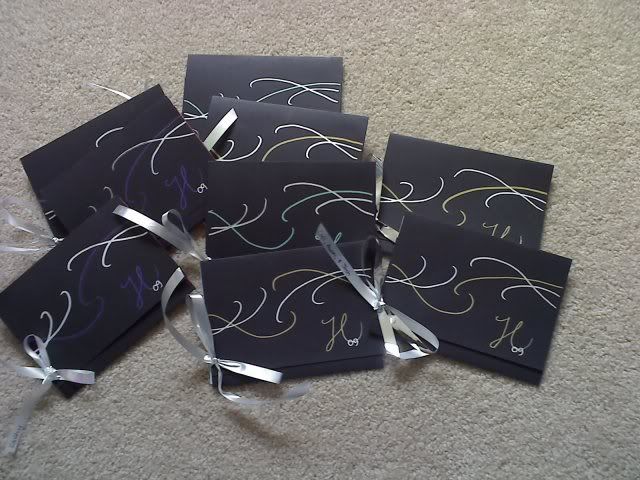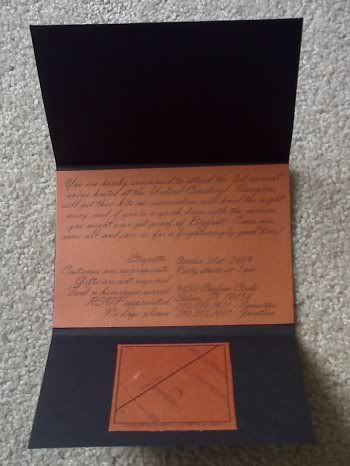 I am also working on a sign for the Tempt Your Fate game, so I can simply hang it for all to see. That way I won't have to continuously explain the rules. It's not finished yet, but I'm very proud of my blood-spattered look.