Discussion Starter
·
#1
·
Has anybody ever used, or has considered using, a caged IBC (Intermediate Bulk Container) tote as a projection booth for house projections?
For those that may not come across the term IBC it's normally a caged plastic tank on a pallet and the usual capacity is 1,040 litres (229 imperial gallons, 275 US gallons, with a height of 1170 mm (46 inches), base of 1200 x 1000 mm (47.25 x 39.37 inches), and an empty weight of 60.5 Kg (133.3 lb). However there are several different sizes of IBC totes. Here's a picture of one: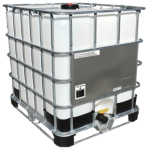 Caged IBC totes ca be bought relatively cheaply second hand and I think would make an ideal all-in-one projection booth to hold the projector, media player, amplifier, speakers, trailing sockets, leads, cables, etc needed for projecting onto a house, in addition other Halloween paraphernalia might be kept in there during the display.
I think all you would need to do is cut out a small hole in the front for the projector to use and a larger hole with a hinged (and padlocked) door to allow easy access to the equipment inside.
If you wanted to, you could decorate it, cover it with a tarpaulin and/or camouflage netting.
The IBC gives you a relatively weather proof box that is large enough to contain and protect all of the audio visual equipment necessary to project a display onto a house and to also provide security to all of the equipment as the IBC is too big to pick up by one person and it can easily be chained to a ground anchor.
Just my thoughts, if anybody has actually done this could they post a few pictures?
Regards,