Discussion Starter
•
#1
•
I know, I know, it's kind of late, but I really wanted to post some pics from my first
Halloween Party
that I hosted last year in my apartment!
I really wish I could have gotten more pics of the decor! I had a bunch of my home made tombstones around the room and cheesecloth on the couch! Next year I'll get more pics for sure! I was just sooooo busy being host!
My party was mostly just a basic Halloween Theme. I didn't really have a specific one. Maybe this year I'll do one though!
First of all, my costume: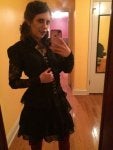 I did a classy very traditional vampire costume this year! my favorite thing was the
red contacts
! They just made the costume really great!
Next are the invites that I made! I created them on the computer and printed them on card stock. I kinda went with invites that would go with my costume...giving the feel that people were going to a party hosted by a vampire!! I know the picture doesn't show but I ended up getting some black poster board and cutting out coffin doors and gluing them to the back and making it so that when they open the doors the invite is inside! They were really cute I thought
BTW you can get these invites at my Etsy Shop!
Here!
Now here are some pics of the food table! I created a sort of
"drink station"
where people could mix their own drinks! The two containers of "blood" were different alcoholic bases in some plastic drink dispensers that I purchased at Target and then made tags of the different "blood types" And then there were ingredients like strawberry syrup, vanilla flavoring, cherries and grapes for garnish, and many other things with different creepy names that they could add! I even had little frames with graphics that I created on the computer with suggested recipes for different drinks if my guests didn't know what to make. They were called
"Staberry Daiquiri" "Hemoglob-Politan"
and
"Gin and Tourniquet"
ANOTHER BTW
....I still have these graphics for the tags, the stickers on top of the containers, the recipes for the frames etc in case anyone wants them! The
O+
blood was Gin and Cranberry Juice and the
AB-
was just Rum colored with red food coloring. HOWEVER I would recommend adding something to the Rum like maybe Hawaiian Punch because just the plain rum was VERY strong obviously. I thought maybe because we were adding things to the drinks that it wouldn't be so bad but it was! I had lots of drunkies including me! lol!
Now here are some pics of the food I made of which I have the recipes for as well in case anyone wants them!
These were just dark chocolate truffles rolled in black sanding sugar! They turned out delicious and were gone in seconds! I named them
"Truffles from the Black Lagoon"
This was some
spinach artichoke dip
that looks like the face of
Frankenstein's monster
! It was actually easier than it looks! This image was online with the recipe and you just cut it out of a blank stencil that you get at a craft store. But no one will know how easy it is and be impressed! However, it took a while for people to want to eat it because they didn't want to mess it up! lol
Here is some
Veggie Dip
shaped to look like
The Mummy
! It was a mixture of different cheeses like cream cheese and goat cheese etc. And then you just pipe cream cheese on top to look like wrapping. This was a favorite and went very fast as well!
You can also see in the background of that picture some
ghost cake pops
as well! They were
lemon cake dipped in white chocolate
. They were very cute!
Most of the other stuff was brought by guests! I had lots of creative guests and they brought some great stuff! One of my favorite things was something my sister brought which was some
shrimp dip
that was shaped like a
brain
! She used a brain mold to make it and it was awesome! I wasn't able to get a picture of it because it was the first thing to be gobbled up! It was delicious!
I also had another table set up that I unfortunately didn't get pics of either but it had a little crystal ball bowl I made out of a fish bowl that I painted that had little scrolls of parchment paper in it. It was non over than a
Tempt Your Fate Game!
It took a while for people to play but once they started drinking and getting loose, it really got fun! I had lots of prizes which I wish I'd gotten pictures of as well but maybe next time!
Here are some graphics that I created of some a
good fate
and a
bad fate
. I have these graphics which are blank in case any of you want these as well!
Here are some more pics of my guests and their costumes! I had a blast and will definitely do it again! Hopefully this year I'll remember to get more pictures!
Sorry some of the pics look a little foggy! I had a fog machine going at the party so some of them look misty! lol
The guy with the gun behind me was dressed as Rick Grimes from The Walking Dead! It was a great costume but he hid from the camera.
One of my friends brought jello shots in syringes you can see me holding in this pic! They were margarita flavored shots and they were DELICIOUS!
Anyway that's it! I had a blast and it was even more fun to plan! Next year I think I'll do a creepy side show/carnival theme party! I already know I'm going to attempt to do a female werewolf this year so I think it'd be fun!
Hope this thread gave you guys some great ideas! Happy Halloween!