Discussion Starter
•
#1
•
How to make wood look like metal or rusting metal (update with finished pictures)
I need some help from some of the experts on here!
I have built a wood cage for my 2014 haunt. I am trying to make it look like it is metal or rusting metal.
Ultimately, it will be in a dark location, so I suppose a follow up question would be: in low light, what color should it be so that it shows up, and so that it appears to be metal (vs wood)
I am open to hear all suggestions about how to paint it, what color to paint it etc etc.
Attached is the cage, and yes, those are wheels on the bottom. Nothing like having a live body in a cage that can still come after you!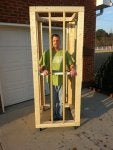 As always, thank you for the help!