Discussion Starter
·
#1
·
After looking all over the web for help making sea weed for our pirate display this year I came up empty. I stumbled upon this by accident and thought I would share this with everyone. I had some thin 2' long trash bags I cut into strips to see if that would look anything like sea weed while trying to seperate the strands I stretched the strip by accident and loved the look so my daughter and I stretched each peice all the way down it.
After doing this to many cut strips of trash bags I painted each different colors .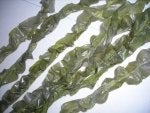 This is really very easy to do hope you like it.