Discussion Starter
•
#1
•
I recently posted photos of a couple of creepers I built on a couple of Facebook Halloween forums and had a lot of people ask for tutorials. so I decided to build another one and take a lot of pictures. I figured this was a good place to post the tutorial for people who are interested. When you do this you will be using a process known as plastic corpsing. If you have never done it, check out this 20 minute video from Stiltbeast Studios. He does an excellent job showing you how to corpse. It is actuall pretty easy and well worth the time to watch.
https://www.youtube.com/watch?v=69p2EyS-5qk
Basically our goal is to take this:
and make this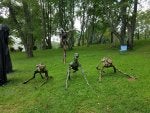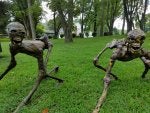 Materials I used.
1. Costco Skeleton. About $40 from Costco.com right now. They are available right now but not year round.
2. 3/8 inch Flexible copper tubing.
3. Extra prop bones. You couple probably also use 3/4 in pvc pipe if you don't have any bones laying around.
4. 3 inch deck screws
http://www.homedepot.com/p/Deckmate-9-x-3-in-Star-Flat-Head-Wood-Deck-Screws-5-lb-Pack-734968/202308663
5. jb marine weld epoxy
http://www.homedepot.com/p/J-B-Weld-Waterweld-8277/202528473
you can get it at Home Depot for under $6
6. Plastic tarp:
http://www.homedepot.com/p/HDX-9-ft-x-12-ft-0-7-mil-Drop-Cloth-3-Pack-DCHD-07-3/204711646
7. gorilla Tape:
http://www.homedepot.com/p/Gorilla-1-7-8-in-x-12-yds-Heavy-Duty-Duct-Tape-60012/100557598
8. zip ties
9. Hickory gel Stain:
http://www.homedepot.com/p/Minwax-1-qt-Hickory-Gel-Stain-66100/202061480
10. Dowel Rod
11. clay
The main part I will be talking about is how I shaped and strengthened the prop. Stiltbeast studios tutorial on corpsing pretty much completes it. When you are making this unnatural is the look to go for. Nice thing about this is that if you make mistakes as you go along that might deform the the prop a bit, it's not a bad thing. You don't need to do it in the order I do things, and there may well be easier or better ways to do things. If you think of them, don't hesitate, go for it and share if it works.
Steps:
1. One of the things I do is lengthen the arms. I do this by popping the bottom arm bone and hand out of the upper arm bone and adding in an extra bone. if you don't have extra bones lying around it should not be to hard for you to modify a 12-14 inch piece of 3/4pvc pipe or replace the arms altogether with pvc pipes, and a couple of 90 and 45 degree elbows.
the bones I used to extend the arms were flimsy. So I inserted a dowel rod and some good stuff foam to strengthen the bones. This is optional depending on how you do this step.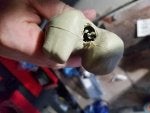 After the bones are prepped and strengthened. I Attach the new bone in between the two existing arm bones. I use deck screws and then cover with/ attach with gorilla tape. If you do this right it's actually very stable.
by the time you are done, you will have nice long front arms that will give the final prop a nice creepy unnatural look.