Discussion Starter
·
#2
·
The next thing I worked on was the head. There are a lot of things you can do to make each creeper unique with its own personality. what you do with the head is one of them.
- Remove the head. This is easy to do, it pops right off of the spine.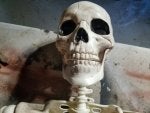 There are a lot of things you can do with the skull to give it its own personality. A couple of things I like to do is reposition the jaw and do a little work around the eyes to make it look a little more demonic and evil.
- I like to remove the jaw, drill a pair of holes a little lower in the skull to replace the jaw into so that I can open the mouth wider and get a bit of a creep unnatural look.
- take the jaw out.
Drill holes a little lower in the skull, when you put the jaw back on, it will look more unnatural and open wider.
But because you are moving the holes to where it is closer in the skull, you need to slightly reshape the jawbone with a heat gun. This is quick and easy to do.
When you are done, the jaw is a bit narrower. Here is a modified jaw and normal jaw. just slip the modified jaw bone into the new holes. Another thing you can do is cut a couple of teeth out for a unique look.
Now I like to reshape the eyes a slight bit to make it more evil. This was a trick I picked up on a stiltbeast studio video last year. Allen Hopps talks about how the brows can really make a difference in you skull face around the 7:50 mark of this video.
https://www.youtube.com/watch?v=KhxAp1gkcfc
Seriously, his videos are worth checking out if you have not already done so. He can really open the eyes of beginner and moderate haunters to making good, creepy and cool props. I don't think I ever got better than a generous "c" in any art class, (I wish I was making a self deprecating joke, but I'm not) but by modifying his ideas I can make stuff that I am proud of.
I position the clay around the eyes to give it its own personality. I'm showing you two different skulls here one for a different project. adding this to the skull is definitely what gives the final product part of its creeper look.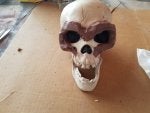 then using the corpsing method in stiltbeast studios video, I use some spray on adhesive, wrap a bit of plastic around the skull and hit it with a heat gun. I will be adding more later when I corpse the whole skeleton. When you wrap plastic around the skull, don't worry about being to neat. bulges and lines in the plastic actually add a neat effect and personality for the final product.
Now you can put the head aside for a bit.