Discussion Starter
·
#1
·
I've wanted to make a horse/hearse for sometime now but until this year, it really wasn't in the Halloween budget.
Took a trip to my local Re-store (Habitat for Humanity) and happened across a handful of recycled building products that just seemed to lend themselves well to a hearse project. I've shopped at the Re-store many times for Halloween and I always send em pictures for their website. They know me well and was very easy to talk em into giving me everything for 1/2 price) I ended up spending $40 for everything picture. The oak balusters where the majority of the cost. (Asking $10 each, I paid $5 each)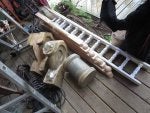 Threw another $100 at lumber and managed to borrow a couple sets of wheels from a neighbor that put me well on my way.
Found myself a $10 set of carriage lamps on kijiji and things started to take shape.
My horse was an entirely different monster. 4- 2x12x8' make up the majority of the horse to the tune of another $100. (couple 2x4 scraps were also used for portions of the front legs)
I actually resorted to public school art class techniques to help with the horse. I found a picture of a skeleton horse, traced it off my computer screen onto graph paper then enlarged the graph on my lumber. It allows you to focus on drawing one little square at a time while maintaining proportions.
I receive a couple days worth of teasing bout the "Dinosaur" I was making.
Did a little shaping of edges with a flap disk on my angle grinder then hit all the low spots with black spray paint and rolled all the high spots white some ivory Tremclad.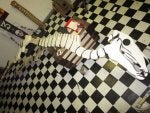 and here's where I'm at now.
Certainly not finished, but stoked with the progress thus far.
Stay tuned!