Discussion Starter
•
#1
•
Hi All,
I have an idea for a floating candelabra that I think will look great in our haunt if I can pull it off. Which is why my first step is coming here and asking you all what you think the best approach might be. I am thinking of taking my little plastic candelabra and turning it into a crank ghost of sorts.
The actual candelabra is very light weight plastic. It came with "candles", but they're simply white plastic that's lit up from the base with a white, non-flickering light. It started out as a black candelabra, so maybe that would have been fine for some Goth display, but it's just not what I'm going for. I want flickering candles, so I'm using three that I picked up from the Dollar Tree with really large, outrageous flames. It should be just the thing for being seen easily from a distance.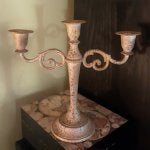 I have a darkened doorway in one of the mausoleums we're building this year. There will be plenty of room for a reindeer motor and the requisite pieces of a mini-crank ghost set up hidden above the doorway. If I tie the two outside arms of the candelabra at the sconces they can act as the arms of a crank ghost. The middle sconce can be the head of the ghost. By tying it up that way, and running it on a traditional crank ghost set up, I'm hoping it will rock back and forth as well as move up and down. (The same way crank ghosts do.)
So for any of you who have created a crank ghost, do you think that idea will fly... or at least appear to be floating? Are their any designs that you think simplify the crank ghost mechanism? Some of them look downright confusing. Any help you want to offer would be greatly appreciated. I have a long history of taking the long way around to making props work, so I appreciate suggestions from those who have gone before.
If there's an easier and simpler way than the crank ghost approach, I'm good with that too. I just want the kids to see a lone candelabra floating in the depths of the mausoleum come Halloween night.
THANKS!