I bought two of these gargoyles, $29.99 each, for my cemetery entrance gate columns I'm building. They are heavy and I love the way they look. Perfect toppers for my 12"x12" Columns. I felt like they needed something more though.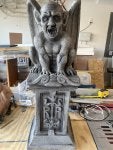 First I had these tiny led lights. I mean tiny and both could run just fine with no issues off a 5v DC old phone charger.
I noticed the statues were hollow inside so I drilled two small holes very slowly in the eyes, gradually increasing drill bit size to the size of the led. I then drilled a 1" hole in the bottom to fish the wires through.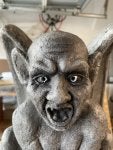 I placed 16 gauge quick connects on the wires before going into the column so that I can take the gargoyle off for easier storage. Looks much better with the lights!
Thoughts?