Discussion Starter
·
#1
·
Some of you may have seen my hanged man a few years ago when I first posted him.
His construction is fairly simple. Dollar Tree "surf" boards in front and back of stacked foam over PVC skeleton, with noodles over PVC for legs and arms. The foam was free from a local Wendy's (their Ice Cream cones come inside of it).
The arms, legs, and neck are connected with metal rings and clips from Wal*Mart.
The neck is
this
wheel from Lowes with the tire cut off.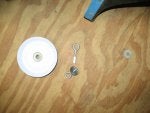 The problem comes in the head. As of present I use a styrofoam head held on by the noose and burlap bags (from Tractor Supply). This looks okay most of the time.
However, I built the man with the intention of turning him into a game! If you haven't guessed WHAT game... I am disappointing in you... Hangman!
The noose goes around the wheel and the body, legs, arms, and head then attach as they would in the pencil and paper version (using a whiteboard to keep up with letters/phrases).
I want a head that will be attachable AND last in the weather when the prop/game is not being played. Ideally the hook will go at the base of the head so the head tilts down/forward.
I am at a loss for this section.