Discussion Starter
·
#1
·
Hello all, Internet Troll here from Pa. I have a feeling that I will be spending a lot of time poking around the site and wanted to introduce myself and give a little background to explain why I am here.
I never did a lot for Halloween until last year. A couple of weeks before Halloween I was in the garage with my then 7 year old and we were looking at some plywood and I said something along the lines of "what can we do with this" and he said "something for Halloween". It was like a light bulb went off in my head. We started cutting out tombstones, painted them and quickly had a cemetary. Here's a picture from this year of what we made last year.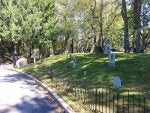 When we got done setting up the tomestone, we realized that looked lame by itself and bought a few things to go withit A partial skeleton, a ghoul to drape around a tombstone and a few other knicknacks. We also made an arm coming out of the ground, legs laying there, a werewolf and a reaper which I will have to figure out how to upload later.
I got some battery powered strobe lights that I put out every night. It did not look great but not bad either. On Halloween night my wife took my son out and I stayed behind to hand out candy to what I figured would be 5 people based on previous years. (Houses in my part of the neighborhood are far apart and most parents and kids hit townhouses that are down the street a bit) To my surprise we got about 40-50 kids and I had to raid my sons haul (he offered and we replaced it) when he and my wife came back. We got a lot of compliments on the display and I found myself muttering "wait till next year" and a monster was born.
We went out about a week later and bought a bunch of costumes from kmart at discounted prices, and when my wife and son went to Florida during spring break, I started making a bunch of stuff. Some on my own, and some ideas that I got from youtube once I realized that people probably posted videos of stuff like this.
Just noticed the pictures are sideways, sorry about that.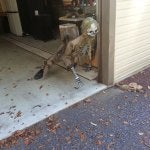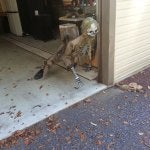 Btw... I love the stiltbeast videos.
This year I set up a table outside and dressed up as Mikhail Gorbachev, human canibal (for some reason I had the mask laying around)
And worried that no one would show up. Luckily they did, we got around 70-80 trick or treaters this year and a bunch of kids and parents who wanted their picture with Mikail Gorbachev. and I am planning on adding to and hopefully improving my display every year. I have a bunch of ideas for next year and found this forum looking for ideas on how to make a witches cauldron. I am also going to be reading up on any lighting tips I can find.
Anyway I have enjoyed what I have read on the site so far and everyone's pictures. Have a nice day everyone.