We have everything from 8X8 shade canopies to the portable carport type tarp buildings from Harbor Freight.
We have done dot and black/white strobe rooms with the smaller canopies.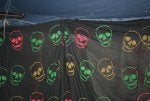 Did a funeral parlor scene one year using 2 canopies side by side. Some photos in our albums here
https://www.halloweenforum.com/members/stinkerbell-n-frog-prince-albums-geo-boo-caching-event-2010-a.html
Cheap black plastic sheeting can be hung on the bars using office binder clips to make sides. For the dot room I would watch for large sections of black fabric or King sized Black flat bed sheets at thrift stores. Then using florescent paint spray the wanted shapes on the fabric. We did skulls for a few years and Alien heads just last year. For the Black and White room used the black and white scene setter wall decor... the stuff was pretty flimsy so ended up using spray adhesive and gluing it to lengths of weed block. Last year one of the canopies became space chamber for our aliens by switching out the black and white with cheap silvery space blankets.
The big carport building we do a dark foggy jungle room. I would get those elastic cargo nets using coupons from harbor freight. String them along the roof line and then using fishing line hang pool noodles - I cut some noodles to act line branches, wind fuzzy yarn around others for texture. Make garbage bag human "pelts" hung them. Made rope and great stuff foam vines hung them.
Added someone in a gorilla suit for the scare.
Hope this gives you some ideas.