·
Mill Creek Haunted Hollow
Discussion Starter
·
#1
·
Next Halloween, I want to have a giant monster costume to walk around in. I mean something BIG. Stilts to add another foot or two to my height and a shoulder mounted head structure that adds another foot or two above my head (I'd probably look out the next or something).

Originally, I was thinking of some sort of tree monster, but I could also go with snarling ogre. I just want something that is really big, but still proportional.

Here are some examples: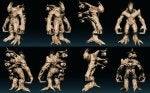 Has anyone built something like that?