Discussion Starter
•
#1
•
For the second straight year, our Halloween party was a success. There were a couple fewer people this year, but everyone stayed for most of the night, and despite the fact that this year's party had fewer people and more room (we opened up the garage this year), 2013 actually seemed more full than last year.
As with anything else, we're learning as we go--we now have another year of seeing what works and what doesn't. The black light garage was a big hit and well worth the effort that went into it. We gave ourselves more time to decorate, get food, etc., but we were still right up to the wire. We could have used another few hours to feel comfortable with getting everything ready in time.
Once again, the vast majority of the "maybes" didn't show up, but fortunately all the "yeses" were there. There weren't any last minute cancellations as there tend to sometimes be. I'd rather have 10 people who want to be there, show up (roughly) on time and stay most of the night than 45 people who pop in just to make an appearance and don't do much while there.
And now, pictures. (And videos!)
A group shot from early in the night:
Me: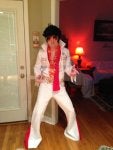 Our friend Jeff as Rocky (or as he told people throughout the night, Apollo Creed) with my girlfriend's dog Jake: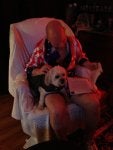 My cousin Ellen and her husband Ben as the villains from the movie "The Rescuers":
Ooeeoo, my friend Chad looks just like Buddy Holly:
My girlfriend Nikole as a peacock on the left and her friend Mary Ellen as a fairy on the right:
Me and Veronica Corningstone glowed in the black light garage:
And speaking of Ms. Corningstone, here's Ron Burgundy with "What Does the Fox Say":
More to come...