Discussion Starter
•
#1
•
Hello everyone!
(Just an FYI i have no clue where my first post went but looks like i'l have to redo it.)
So i plan on doing some props for Halloween and Christmas, here's the pic's so you guys have an idea of what im talking about.
Halloween Prop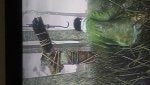 Christmas Prop
So for the halloween hook i have some insulation foam in my garage but it's not really long enough to make the legs for the hook so i might need to go back to home depot and get some more.
Does anyone know what glue works good for a project like this?
I plan on basically making two rectangle legs out of insulation foam and leaving a gap for the top plank with the hook to sit flush between the two legs.
How would i go about painting this? Does spray paint eat through insulation foam?
For my Christmas prop
I planned on buying some PVC pipes and making a skeleton for the gingerbread men so i could get their pose right.
Then i would buy more foam from Home depot (not more insulation foam but the feathery looking one, i forget the name.)
This foam would act like the muscles for the gingerbread man which i would then wrap in EVA foam and heat with a heat gun to get that wrinkled/crumbled/ baked look on the eva foam.
On a side note does anyone here know what kind of respirators you would need to sand insulation foam, sand eva foam, and protect you from spray paint fumes?
Kind of new to this stuff and i dont want my lungs gettign messed up haha
Thank you guys for any advice or tips in advance!