Discussion Starter
•
#1
•
Hey guys. Just thought I'd give you guys a heads up...
If you've seen this picture on Pinterest: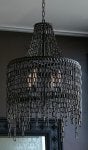 And wanted to replicate it, I came up with an idea the other day while paying a visit to the Dollar Tree.
They sell these:
http://www.dollartree.com/seasonal/Lawn-and-Garden/Hanging-Wire-Baskets-10-/638c663c663p317370/index.pro
and these:
http://www.dollartree.com/catalog/product.jsp?productId=316778
You could spray paint the mardi gras chain necklace black. Granted, it would be on a much smaller scale, and you'd have to come up with a way to light it, but you could probably do it for around 15 bucks.