So with this years display pretty much shot, thanks to weak soil and a large oak, I decided to draw up plans for next year's haunt. Here's a rough sketch.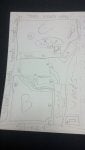 Zone A - Located near street to right of driveway will consist of a small fenced in display with welcome sign. Not sure what it will say yet, but I am working on it.
Zone B - Full front yard display, fenced off to protect props and lawn. Themed through out and kid friendly to lure people in.
Zone C - Full back yard display, walkable and interactive. Well lit and obstruction free path will lead TOTs safely through the scene.
Groundwork laid......now to get creative!