Discussion Starter
•
#1
•
Here is what I've done with my Ground Breaking Zombie so far.
I got this little guy for $11 on Nov 1st at Spirit.
It really sucks and doesn't stand on its own and covered in a very cheap paint that stopped any glue from really sticking to it. To pose him it removed the legs and put 2 pieces of PVC pipes in the bottom so I could mount him in the ground. I then held his arms in place and filled the joints with hot glue. The glue did't stick very well but did act as a space filler to hold him in place till I could find something better. Then I carved out the eye holes and popped in some cheap ping pong ball eyes I got from the Dollar store.
Not sure why the photo keeps coming in sideways.
Next I took some great stuff and filled in the joints. The great stuff worked much better as a space filler to help keep his pose. I then put his head back on and put some great stuff under his chin to make him looking up. Once the foam dried I trimmed it down the excess. Sorry but I didn't take any photos of this part but I'm sure you get the point.
I really wasn't really sure how to do the corpsing at first so I did some testing.
http://www.halloweenforum.com/halloween-props/165802-cotton-ball-corpsing-latex-mache-paste.html
I ended up doing cotton with mache past. The paste is much cheaper and easier to find then latex and gives me almost the same effect. It also dries very solid and really helps him hold his pose.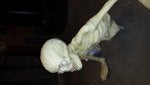 Next I plan on giving it a quick coat of red spray paint to give the cotton a bit of a flesh feel. Then it will get some good old plastic corpsing with a bit of stain to give it some rotten flesh. I may do some great stuff guts but I'll deiced after I see how the plastic comes out. I'll probably give him a bit of hair also.
Please let me know if you have any suggestions.