Discussion Starter
·
#1
·
Hello, all
A Michigan haunter here.
Designed my 1st costume at age 5 (the Mean Ghost!), brought to life by my awesome Mom, a seamstress. She encouraged me and my brothers' creativity as we made Halloween window displays
In grade school we did basement "spook shows" with clothes lines and bed sheets. We charged a nickel. (Pros at 9years!)
After that a lot of years doing the dress-up and scaring trick-or-treaters.
Finally had the opportunity to do up my own house starting a few years back.
Now my "Infestation" haunt can be seen from orbit!
Below is the Google Earth shot, followed by some day images of last year's haunt.
I color-coded with circles what each satellite object is in the day image.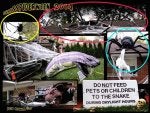 A day and night image from last year:
BTW, I decided on "Attic Hatch" because ALL my stuff breaks down to fit in a standard drop ladder hatch in my garage.
I look forward to learning a lot here, and I hope I'll be of some help as well.