Discussion Starter
·
#1
·
Hello everyone I was busy setting up my haunt and had a brain fart. I realized the AAA battery changes every 15 minutes last year for the green laser pointer pens that were attached to the spinning mirror on my laser vortex.
Well to make a long story short, I had a red green stage laser machine that stopped spinning. I have them in all the trees to create thousands of laser dots last year.
Well I decided let me try to take it apart since it is fan cooled and see if I can use the laser.
It turned out to be SO SIMPLE!
I figured I would share it with you guys so you can use the idea.
The machines are 5" x 4" and 2.5" tall.
They are about $17 on ebay. They are called Red Green stage laser (Cheap blue metal case to them.
I took off the screws and realized I could take out the spin motor first. Very easy since it plugs in to the board. Then I decided to disconnected the red laser on the side of it. Simple plug as well. Then there was a small square diffuser piece of plastic on the hole where the laser comes out on the front of the case.
I removed that small square. Then put it all back together.
IT WORKS AND IS FAN COOLED!
So many people complained about the batteries online and the soldered pointers overheating.
Well this solves that problem 100%
It has been running for an hour and no heat, no death of laser.
WOOOOHOOOOO
I have used these lasers in last years haunt. If you look carefully at the video I will post it shows them in the trees but it is VERY hard to see due to the camera I was using to record video.
Needless to say I have posted picture to show how simple this is and want to share it with you since total investment is less than $25!!!
Here are the photos and the video from last year. Sadly the vortex had dies so it did not show in the video. But the lasers in the trees do. For $17 it is so worth it to add it to your trees and use this part for the vortex.
Happy haunts everyone!
2:38 and on show lasers in trees. (Hard to see but trust me in person its 100 times more vivid!)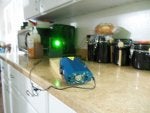 Finally here are the two pieces removed from the laser machine.
So simple and works FLAWLESS! No more overheated lasers that were soldered and no more battery changes! Hope this helps all of you