·
Master of my own Universe
For the neck, insert the long length of PVC pipe into the 8" piece of pool noodle
Fit the neck assembly into the skull. Hopefully you will have a skull that this method can be applied to. If not you will need to find another method of fitting the neck to your head/skull
Fit the head and neck assembly into the pool noodle attached to the massager
This completes the basic assembly for the grave grabber.
You may need to adjust the placing of the plumbers tape to the massager and/or PVC pipe to get the movement you want, also the positioning of the head and arm.
Dressing the grave grabber will be your choosing, depending on the type of grabber you want and You can pad out the arms using foam pipe wrap.
As an update to this I have since made some adjustments to my grave grabber
1. For the shoulders I reduced the length of pipe from 6" to 3", this worked better when I added some padding for the shoulders and body
2. I removed the pool noodle from the top of the massager and instead drilled a 7/8" hole in front of the massager arms. This gives a more solid and stable fixing for the neck.
If you are thinking of doing this, I would suggest that you remove the top from the massager then drill the hole.
3. I used a piece of foam to pad out the shoulders and body
This is how the grave grabber looks now
PART 1
As promised I have put together a tutorial for a shaistu hacked grave grabber. I don't take any credit for the hack, thanks for this goes to Spooky Sam and all the other haunters that have developed this. This how to has been put together for fellow haunters that would like a guide to the how...
www.halloweenforum.com
PART 2
For this next step you will need 2 lengths of the PVC pipe, each 5" to 6" in length and two lengths of the plumbers tape 24" long. The plumbers tape is used to hole the PVC Armatures in place and needs to be secured to both the PVC and the massager. Step 1 - First, drill some pilot holes for...
www.halloweenforum.com
PART 3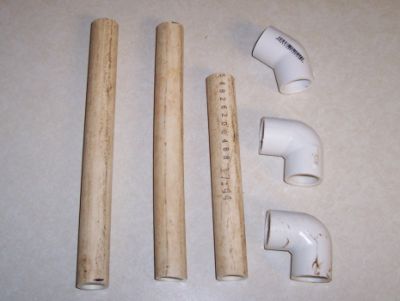 For the final steps of the basic grave grabber you will need the Head and hand, two lengths of PVC pipe each 8" long and one 6" long and the fittings Step 1 - the Arm Assembly the two 8" lengths and 2 45degree fittings as shown and attach the hand to the Arm Step 2 - the Neck Attach...
www.halloweenforum.com
PART3 (alternate)
For the neck, insert the long length of PVC pipe into the 8" piece of pool noodle Fit the neck assembly into the skull. Hopefully you will have a skull that this method can be applied to. If not you will need to find another method of fitting the neck to your head/skull Fit the head and...
www.halloweenforum.com
MOD NOTE: can't locate part 3 alternate images in Herman Secret's albums.