Discussion Starter
·
#1
·
I found this project here at Spooky Blues.
Giant Paper Mache Jackolanterns :: Spooky Blue
When I saw it I knew I had to do them!!
So I bought a large plastic pumpkin and I already had the cauldron. Now, don't think you're going to ruin these. You're not. It's just a form. You're gonna take the hardened shell off of it so you can do as many as you want and still have your decorations! Here they are before their transformation.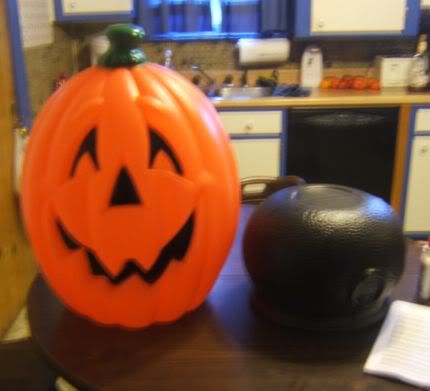 Now I bought some generic heavy duty aluminum foil and covered them in it. I used duct tape (best invention ever) to tape down some of the seams. Use it sparingly. Now, that's what the instructions on the website says. I've just been thinking to myself why can't I duct tape the entire thing after I foil it? It would be really smooth. So if you want to try that let me know how it turns out. If I do any of these next year I'm gonna try it. Anyway, now they're foiled.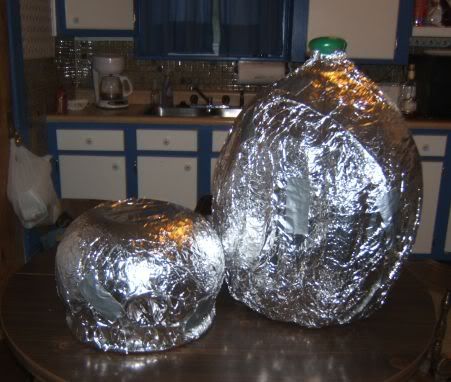 I use the palm of my hands to try and flatten out all the wrinkles I can to make it a little smoother. Then I get everything ready to start gooping newspaper strips on it.
I prepare my newspaper by first ripping it in half and then tearing strips about 2" wide and no more than 10" long. I just kept them the length of the newspaper half. The instructions specifically say to tear the newspaper and not cut it. There was no reason why but what the heck. Let's follow directions.
You're supposed to use a mix of glue and water. I tried that first cause again..following the directions. I had never used glue/water for my paper machete. After using a bowl of that and seeing that my usual way stuck much better, I dumped the glue. Flour and water. Slap some flour in a bowl and add water. Stir well until you get a pasty mixture. Trust me..I've done a lot of paper machete heads in the past. This works a lot better. And it's a ton cheaper!
Everything is set! I put on my trusty vinyl gloves. I take a strip of newspaper and dip my fingers in the paste and rub it on the strip. Don't drench it! Place it on the form longways. Always put the strips on top to bottom, not side to side. After it's on, dip your fingers again in the paste and rub it on the outside of the strip. Keep going and going and going!
But STOP!! Before you go strip happy remember it's a mold. You're gonna need to be able to take it off the form! What you need to do is draw an imaginary line down the center of the prop. Leave a small space in between strips so when you're ready to take it off, it comes off easily. You'll be able to see that in my last picture.
Only do 1 layer. Let it dry over night, then do another layer the next day. I'm supposed to do at least 7 layers, so when I'm ready to go on to the next step I'll add more here!
Below are the pictures of the first layer of machete. The last one you can see how much space I left for the seam!