Discussion Starter
•
#1
•
Anyone have any experience with the Gemmy LED Short Circuit bulb?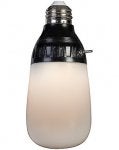 I've read mixed reviews on them, saying that they flicker for a while but then end up losing the flicker effect or just stop working entirely.
I have the Gemmy flickering attic/basement lights but they're not bright enough for what I'm looking for so I was thinking about getting a couple of these actual bulbs. Before I buy them I figured I'd see if anyone here had issues with them as well. Thanks!