I hope this post provides some inspiration for those here on the Forum and proves the following: A simple haunt can indeed be effective and economical.
So here are some (late) pics and videos of my Gazing Ball Leota display for this year. I randomly stumbled across this site a month ago and was instantly inspired by all the fantastic ideas, as well as the kind and encouraging community here. Thank you all for keeping that spirit alive!
Here is the general overview...
Due to a time crunch and not a lot of cash to spend, I wanted to do a simple effect that would be easy and just plain cool to witness. When I saw others online with a Madame Leota prop, I knew that would fit the bill perfectly. Since we have a gazing ball in the front yard, I thought she'd look great on the stand in its place.
I decided the porch area would become a fortune-telling tent, and dressed it accordingly. A trail of luminaries guided you towards the porch, where a fortune teller sign welcomed you. Black curtains provided a backdrop for Leota, and bead curtains were an entrance into the "tent". TOT's were given fortune cookies and fortune fish as treats, to keep in the theme of it all.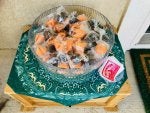 The Leota projection effect was disguised/enhanced with glass globe votive candle holders hanging from shepards hooks. She was also backlit to give her an otherworldly look. A step-activated raven with red eyes and a loud caw gave start to those who came seeking Leota's services.
Several pieces of this set-up were repurposed items from around the house. For those bits that I purchased, most were around $10 or less. A few were above that, but I was really surprised by how affordable it came together. A little planning and setting up was all it took to pull it off.
I'm happy with the way it all turned out, and just wanted to share in hopes that others can be inspired. I'll give a few more details and some quick videos later below.
Thanks for looking and happy haunting to everyone!