Discussion Starter
•
#1
•
Hey Halloween Forum,
For those of you interested in or around Chicago, IL, I wanted to let you know about some FX courses that I am teaching out of my new 2600 sq ft studio/workshop in Westmont, IL.
http://www.kosarteffects.blogspot.com/p/classes.html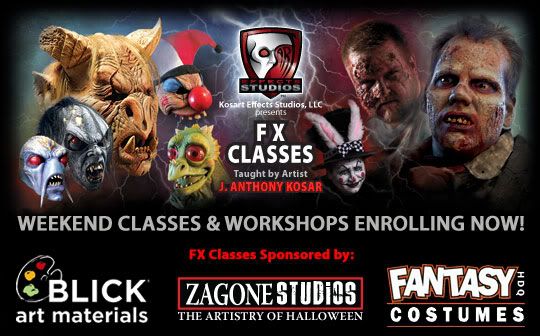 Just in time for Halloween, be sure to sign up for these unique classes and workshops from Kosart Effects Studios! Each class/workshop is jam-packed with professional techniques that I have learned through real-world on-the-job experience, and am now passing down to students, giving them an exclusive opportunity to learn various aspects of the Special Effects Industry in Chicagoland! Learn everything from Mask Making to various forms of Make-Up FX!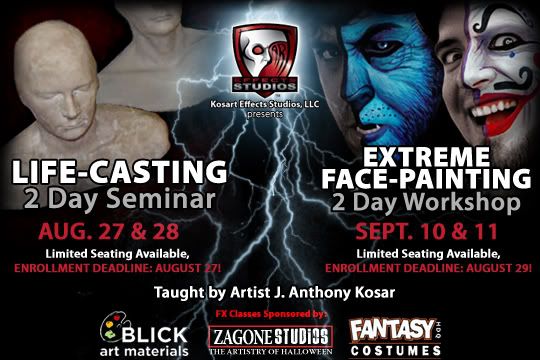 First up is the LIFE-CASTING SEMINAR taking place this weekend ( 8/27 & 8/28 ). There are still seats available for anyone interested. In this intense 2-Day seminar, you will learn the professional process and techniques on how take a full-face (half-head) life-cast utilizing alginate and a full-head / shoulders life-cast utilizing silicone. You will then learn how to cast and clean the life-cast, as well as to prepare it for creating custom prosthetics. NOTE: This is a seminar and will consist of demonstrations only, students will not be creating life-casts in this seminar. Be prepared to take notes. Enroll by 8/27. Enroll here:
http://kosarteffects.blogspot.com/p/seminars-and-workshops.html#LC
Next up is the EXTREME FACE-PAINTING WORKSHOP taking place September 10 & 11. ENROLLMENT DEADLINE: Monday, August 29, 2011. In this intense 2-Day workshop, you will learn the professional process and techniques on how to design and create Extreme Face-Painting effects. Learn how to push the boundaries of 2D painting to create the illusion of 3D, just in time for Halloween! This workshop will consist of demonstrations and HANDS-ON learning. ALL MATERIALS INCLUDED, including a professional Face-Painting Kit for you to keep! Be prepared to take notes. ENROLLMENT DEADLINE: Monday, August 29, 2011. Enroll here:
http://kosarteffects.blogspot.com/p/seminars-and-workshops.html#EFP
Other classes coming up are:
ON-SKIN SILICONE MAKE-UP FX:
2 Day Workshop (Saturday September 24 and Sunday September 25)
Enrollment Deadline: Monday, September 12, 2011
Description and Enrollment Info HERE:
http://kosarteffects.blogspot.com/p/seminars-and-workshops.html#SIL
THE ART OF MAKE-UP FX:
4 Day Course (Saturdays: October 1, 8, 15, 22)
Enrollment Deadline: Monday, September 19, 2011
Description and Enrollment Info HERE:
http://kosarteffects.blogspot.com/p/art-of-make-up-fx.html
THE ART OF MASK MAKING:
4 Day Course (Sundays: October 2, 9, 16, 23)
Description and Enrollment Info HERE:
http://kosarteffects.blogspot.com/p/art-of-mask-making.html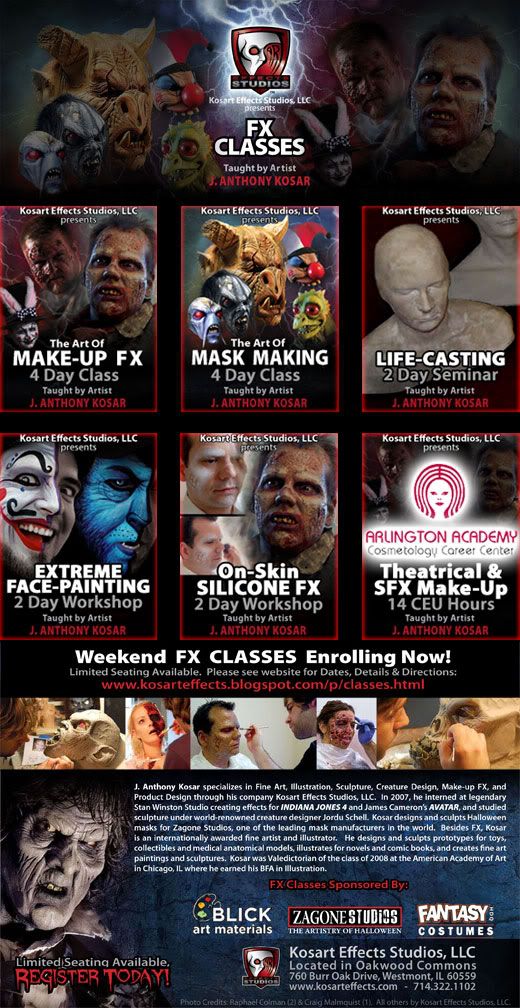 See pictures from the first three classes from Kosart Effects Studios HERE:
http://kosarteffects.blogspot.com/p/class-pictures.html
Please contact me if you have any questions:
[email protected]
Thanks,
J. Anthony Kosar
Kosart Effects Studios, LLC