Discussion Starter
·
#1
·
Hey all! New to the forum. We are hosting a Freakshow theme party this year, not completely based on the American Horror Story show, but with similar elements. One of the projects is 'TWISTY'S BAR,' and I thought it would be fun to show you some progress pics as we move along. Enjoy!
Concept- create a bar/booth featuring a large sculpted foam 'TWISTY' from AHS 'Freakshow,' as well as 3d marquee letters with lights. Here is the initial sketch.
3 sided pallet wood base (wife doing the display model pose)
Bar top and 4x4 support beams
I use grey as a basecoat. This allows me to paint color on top, do a light sand, and expose the 'age.' *TRICK* cut housepaint with 20% winshield wiper fluid to run through a standard HVLP gun. (I was in a rush and didn't tighten at first, which is why I made a mess.)
I purchased these letters from Creative Market for around $2 each. They are cardboard. I cut off the tops, removed the inside paper, then primed and painted. *I used black in my airbrush to shadow the corners and nooks of the letters, it really adds to the depth.
I then cut scrolls for the letters to be mounted on
That's all for now. Soon I plan on sculpting Twisty's face and adding paint to the entire project.
UPDATE: 9/4/2015
Painted the slats, and painted the scrolls. I went with a blue for the scrolls. One of my main goals is saving money, so I am using old housepaint whenever I can. I like the pop of a color other than red and white in the mix.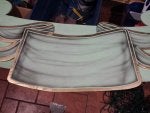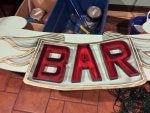 Here is Twisty. I glued 2 2" styrofoam boards together, then sculpted with a shaping tool, homemade hot wire, chisels, and a dremel. It was coated with foamcoat, then painted. I think in the future I will look into monster mud, as the foam coat is a little pricey.
Update- signs attached with lights. It's pretty much done aside from the scissors that will go in the empty areas next to the face, some burlap background, a few spotlights and other small decorations. Oh yea, and the booze!