·
Mill Creek Haunted Hollow
Discussion Starter
·
#1
·
I've been tinkering with concepts for a couple of months, and thanks to helpful chats on this forum, I have come to embrace the idea of a spooky old town square.
My plan is to have a pumpkin patch with a tall scarecrow at the enterance, then ToTs walk on a boardwalk through the cemetery and past the mausoleum as they make their way to the front porch. The front porch is the midway point where they will receive their candy. After that, ToTs continue to the "town square" where they can look at spooky shops like the witch's apothecary and other storefronts (I'll have to do some brainstorming) and there will be a town square with some sort of centerpiece, a few stocks (one with a skeleton and a very sturdy one for people to play with and take photos in). At the end of the haunt, people can enjoy a cup of hot cider.
Here's a doodle of how I hope everything will fit together.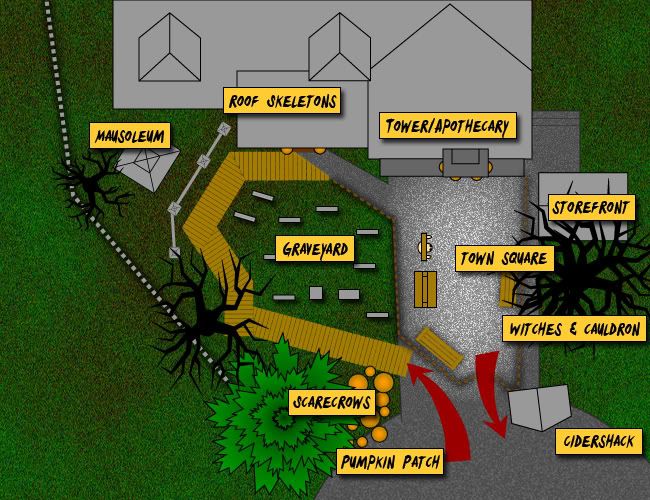 The boardwalk will have a railing of some sort (don't know yet if it will be wood, rope, or chain) and will have orange ropelight underneath to help with illumination.
The town square will be the big build. I'll reuse the apothecary storefront and tower, but I'll put on a new roof for everything, and carve a neat Apothecary sign out of 2" foam. I want to do a nice town square, and for now I'm thinking stocks and benches. One stock will have a skeleton and the other will be available for photo ops. I'll have two benches in the square. One will have a witch and one will have a skeleton. Again, these will be set up for photo ops.
I will also reuse my witches and cauldron, but I'm going to set it up as though they are giving a demonstraton, or teaching a class, in the town square.
Whew! This is going to be a lot of work! Good thing I have 6 months.