Discussion Starter
·
#1
·
I've made no secret around here that tombstones really aren't "my thing".
A very large part of that is the fact that most "vacations" we took when I was a child involved seeking out some obscure location to tool around some forgotten cemetery. Mostly for my mom's research, a historical novelist.
Thus, tombstones remind me of vacation and research, not Halloween.
Well, all that got thrown upon me once again this last week.
A bit of a story first.
I've been largely absent the last couple weeks. Well, the reason being is 2 weeks ago, my Sister-in-law got married. Now, with all that preperation (my wife and I doing a lot of the work for the wedding), we've been a bit busy. THEN, EVERYONE at that wedding got rather ill. My kids missed the entire week of school, and I even took a couple hourse off work one day. (if you knew me, you'ld know how momentous that actually is. I NEVER use my sick leave)
Well....as it turns out, my oldest has a major assignment to do a report on one of the counties in the state. Started that week he missed. When, the kids had access to the school computers to do their research and prepare a power point presentation to give along with an oral report.
With Kyle missing class, the kids picking both their time to present, and counties, he got shafted. We get a county in the middle of nowhere with NOTHING around, and GUESS WHO GETS TO REPORT FIRST on Teusday? (their giving these reports for a week...)
Well. We took their little paper of suggested talking points of places to visit, and tossed it in the trash. Kyle's much more interested in the ghost towns of the area (don't blame him).
So, we've spent a week digging up histories of old towns long gone by the wayside. Including their cemeteries...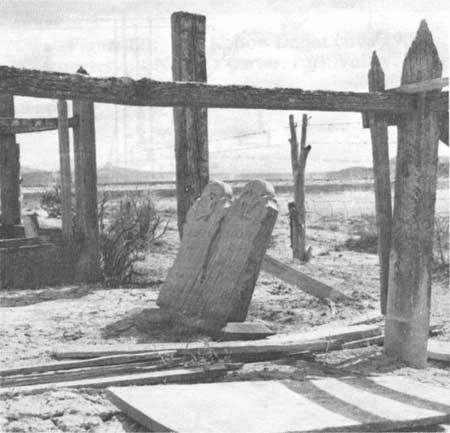 And many more on hard copy from my actual childhood.
There is something about cemeteries in a ghost town that is haunting. I'll see if I can get some of the others digitalized if you're interested.