Discussion Starter
·
#1
·
Hello Haunted Mansion Fans,
Each year I create a Haunted Mansion raising money for charity and each year this has grown HUGE!!! It is always changing and I am always recreating it... In doing this Paintings I have created for past shows I no longer use. since I am always recreating them to fit the new design.
If you LOVE "The Haunted Mansion" as much as I do I urge you to go to my etsy sight and check out the paintings I am now selling. They go pretty fast and if they do not sale within a time I remove them and will not re-post.
I am also available for commissioned paintings and sculpture... I know there are many out there who will sell you a print or a poster of the portraits these are NOT copies nor are they POSTERS... These are Hand Painted to EXTREME DETAIL to what you will see in the Mansion.
Feel free to check out my sight on etsy.com or contact me
[email protected]
if wanting to have a commissioned peace... NOTE: I can recreate anything I see! This means ANY photos etc I can create... I am also a sculptress if any needs in this area....
My etsy you can find me at
https://www.etsy.com/shop/jwproductions?ref=hdr_shop_menu
I have just finished a commissioned painting for a customer... Here you can see a sample of my work... The photos of this painting are extremely bad!!! So recreating it was extremely difficult... You can see I was still able to recreate it with great likeness!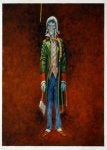 Cheers
The Grinning Raven