I have been away for a awhile. So, after much laurel resting, I have finally finished building my new fogscreen. Two years in the making and finally done!
This new one is superior to my old
fogscreen
in almost every respect:
1. Everything is internal; all this requires is mains power, a DMX cable, and a water hose. No more tanks, pipes, or ducts to deal with.
2. Bigger is better (that's what she said); even though the curtain of fog has the same dimensions as the old fogscreen (42" wide, .5" thick at the business end), the entire fogscreen is larger, increasing the total laminar column of air for better stability of the 42" fog curtain. This one is 60" wide and 16.5" deep vs the old one (42"W x 10.5"deep).
3. No babysitting; This one has an auto fill system so I don't have to babysit the water level (ultrasonic foggers have an auto shutoff if the water level gets too low).
4. Programmable; 100% DMX controlled e.g. turning on auto fill, activating fog, air and fog speed, and fog density.
6. Real Honeycomb; No more straws, well, maybe a few for internal delivery of the fog! This is utilizing aircraft grade aluminum honeycomb for the laminar filter which gives WAY better uniformity and uniformity is what laminar is all about!
7. No more lugging iron; The new ultrasonic foggers are not rectified so, DC is supplied via MeanWell PSUs. These are so much lighter than the AC transformers used in my old fogscreen.
Here are the initial Sketchup pics. For the Sketchup pics, the reason there are lots of partitions in the parts is because of the build volume limitations of my 3D printers. A good majority of this thing is 3D printed.
Now for the pics and videos. Also, please excuse the mess. My workshop tends to get like this when I start on a project of this magnitude!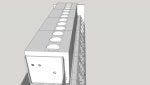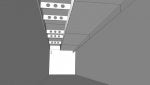 Here are some of the "first light" pics. There will be more to follow, along with a ton of build pics and more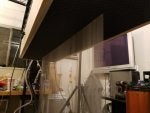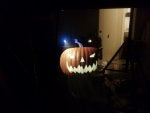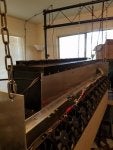 First light video
Fog Density test
Quick video projection test
More to come, I promise!